The 2023 PICES conference ("Connecting Science and Communities for Sustainable Seas") took place in Seattle on 23-27 October 2023, and was designed to focus on developing and strengthening PICES diverse partnerships, whilst building on existing joint activities and promoting cross-fertilization. It was an opportunity to increase engagement with Early Career Ocean Professionals, Small Island Developing States (SIDS) and local and Indigenous communities.
Members of our global ECOP Programme team were in attendance during the Annual Meeting, including Raphael Roman (ECOP Asia), Hannah Lachance (ECOP USA), Erin Satterthwaite (ECOP USA), Jae-Hyoung Park (ECOP Korea), Hyung-Gyu Lim (ECOP Korea), Minkyoung Kim (ECOP Korea), Maria Schoenbeck (ECOP Guatemala), and Pengbin Wang (ECOP China).
Learn more about the North Pacific Marine Science Organization (PICES):
Established in 1992, PICES is an intergovernmental scientific organization coordinating marine research in the northern North Pacific and adjacent seas (especially northward of 30 degrees North), providing a unique collaborative and knowledge exchange platform between ocean scientists and practitioners in East Asia (i.e., China, Japan and the Republic of Korea), North America (i.e., Canada and the USA) and the Russian Federation. The multidisciplinary and cross-cultural nature of PICES Annual Meetings creates an enabling environment for innovative ocean solutions, capacity sharing, and cross-border scientific partnerships and networks.
The PICES Secretariat and Governing Bodies have been particularly supportive of ECOPs. Historically, they have always recognized the outstanding work and research contributions of early-career scientists through presentation/poster awards and generous travel grants. As the UN Decade of Ocean Science for Sustainable Development (2021-2030) garnered momentum in the late 2010s, PICES reviewed its early-career engagement ambitions and started meaningfully integrating ECOPs in leadership positions (e.g., actively appointing an ECOP as co-chair of an Expert Group, encouraging workshop proposals led by ECOPs, etc.), and organizational decision-making processes (inviting ECOP observers to their biannual Science Board meetings and providing them with a space to voice their opinions and put forward recommendations).
General statistics from the 2023 PICES Conference:
672 total participants, including 596 who attended in person from 22 countries,

Around 36% of participants were ECOPs,

There were 293 oral presentations and 126 poster presentations,

The

Whova App

(award winning event management software) was used by 70% of participants and 90% of ECOPs.
The Advisory Panel on Early Career Ocean Professionals (AP-ECOP), of which Hannah Lachance (ECOP USA), Minkyoung Kim (ECOP Korea), and Raphael Roman (ECOP Asia coordinator) are co-chairs, trialed their first mentorship scheme. They convened 26 teams where mentors and mentees were matched across disciplines and geographies, based on a survey form that was circulated prior to the conference (see the PICES mentorship photo below). It was a very successful experiment! While the AP-ECOP group gathers feedback from this first in-person experience, the plan is to implement a hybrid PICES mentorship program over the longer term and include a virtual component.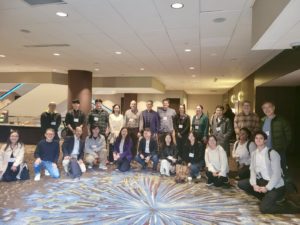 ECOP Asia poster
Title: "Engaging Early Career Ocean Professionals (ECOPs) in East Asia: Insights from 2023 surveys in China, Japan and the Republic of Korea"
Abstract: The ECOP Programme has experienced remarkable growth in its geographical reach, evolving into a dynamic 'network of networks' comprising 5 regional nodes (Africa, Asia, Caribbean, Central America and Europe) and 42 different national hubs. The ECOP communities in East Asia are particularly active, with 157, 60 and 113 registered members in China, Japan and South Korea, respectively.
The national coordinators of the ECOP Programme regional node for Asia have played an integral role in its success. They have conducted video interviews, organized ECOP-centered symposia, sessions and workshops, curated dedicated communication and networking channels, engaged with key ocean stakeholders and partners of the UN Ocean Decade, and taken stock of the needs, priorities and challenges faced by their respective ECOP audiences. To gain a comprehensive understanding of the latter, five regional and national surveys have been disseminated since mid-2022, gathering crucial socio-demographic statistics and identifying the barriers ECOPs encounter, and the resources required for their professional growth. These (bilingual) online surveys capture cultural nuances and provide tailored actionable insights, particularly in areas such as funding, awareness-raising, networking and capacity building.
In this context, PICES assumes a pivotal role in effectively engaging and fostering meaningful relationships with ECOPs in East Asia. By doing so, PICES will contribute to the development of synergistic and transformative partnerships that drive progress and innovation in ocean science and sustainability.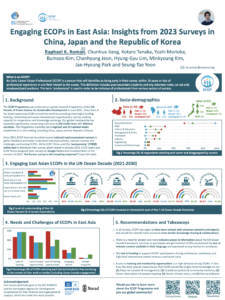 Next meeting?
The 2024 PICES Annual Meeting will take place in Honolulu, Hawaii and will be hosted by the PICES Secretariat (stay tuned for more updates here).