Early Career Ocean Professionals (ECOPs) are everywhere! The 8th Biennial conference of the Ocean Society of India (OSI), OSICON was hosted by the Indian National Centre for Ocean Information Services (INCOIS), Hyderabad from 23 to 25 August 2023. INCOIS and OSI jointly decided to include ECOPs in the Technical Committee and gave ECOPs a unique opportunity to give an invited talk in each of the 14 subthemes. Speakers were selected after a rigorous review process and recommended based on the insights from the Organising and Technical Committee.  INCOIS completely funded the ECOPs selected in various subthemes and this was implemented for the first time in India to include ECOPs to give an invited talk.  Sunanda N, a research scholar from IIT Kharagpur and an ECOP from India, who has been with the ECOP programme since 2021, was included in the Technical Committee and was entrusted with the responsibility of coordinating the ECOP talks and conducting the ECOP workshop during OSICON.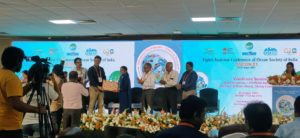 Meet the featured ECOPs:
1. Trishneeta Bhattacharya, INCOIS, Hyderabad gave her ECOP talk in Ocean Observations (In-situ & Satellite). She believes that her research during her PhD will contribute to Decade Goal No. 6, an accessible ocean, with open and equitable access to data, information and technology and innovation.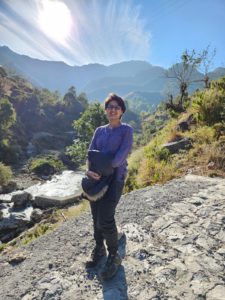 2. Sivaiah Borra, INCOIS, Hyderabad gave his ECOP TALK in Ocean Information and Advisory Services. He will contribute his research to Decade Goal No. 4, A predicted ocean where society understands and can respond to changing ocean conditions.

3. Rony Peter, IIT Kharagpur, gave his ECOP talk in Ocean Modelling and Data Assimilation and believes in contributing his research towards Decade Goal No. 4, a predicted ocean.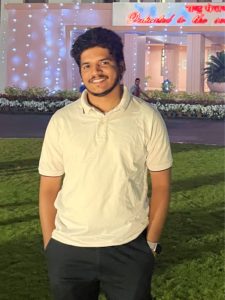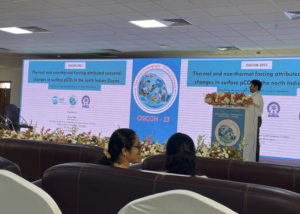 4. Sthitapragya Ray, IIT Bhubaneswar, shared his insights with his ECOP talk in the sub-theme Coastal and Open Ocean processes and will contribute towards achieving a productive ocean (Decade Goal no. 3)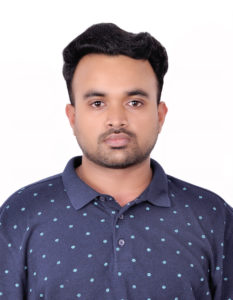 5. Dhruba Jyoti Goswami, INCOIS, Hyderabad gave his ECOP talk in Air-Sea Interactions and believes in contributing his research towards achieving a predicted ocean (Decade goal No. 4)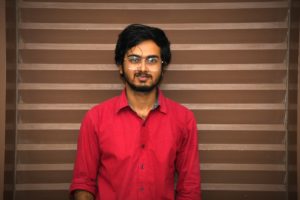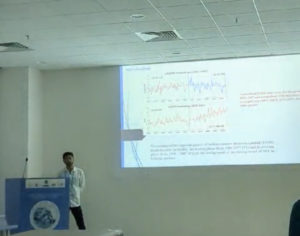 6. Dr. Abul Qasim, Physical Research Laboratory, Ahmedabad, a postdoctoral fellow gave his insights on elemental biogeochemistry in Biogeochemistry of Ocean and is excited to contribute towards a productive ocean (Decade Goal no. 3).
7. Dr. Femi Anna Thomas, Union Christian College, Aluva gave her ECOP talk in Biodiversity and Ecology and is working towards achieving a clean ocean (Decade Goal No. 1). She is currently an Assistant Professor and believes she can inspire more generations to come and create awareness.
8. Sankar Prasad Lahiri, IIT Delhi gave his ECOP talk on Ocean and Climate Change and believes in contributing towards a predictive ocean (Decade Goal No. 4).
9. Dr Athul Krishna K. R., Kerala University of Fisheries and Ocean Studies shared his insights in Ocean Engineering and Technology. An Assistant Professor by profession, he believes he can contribute and work towards inspiring and engaging oceans (Decade Goal No. 7).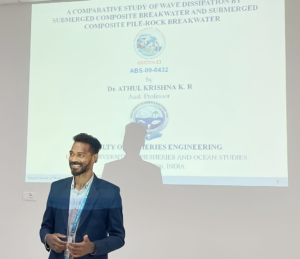 10. Dr. Sreenidhi K. S., a marine geophysicist was invited to give her first talk in Marine Geology and Geophysics. She is motivated to contribute towards an inspiring and engaging ocean (No.7) and is all good to go!
11. Sibin Simon, NCPOR Goa, a polar ECOP shared his insights in Polar Science and Cryosphere Studies, contributing to achieving a predicted ocean.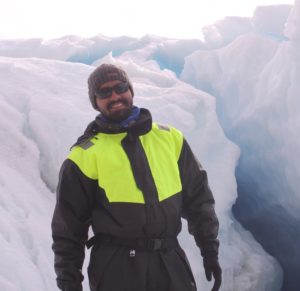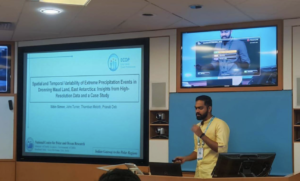 12. Dr. Elaine A. Sabu, Assistant Professor, Reva University, Bangalore presented her work as an ECOP talk on the Blue Economy, an emerging topic, but less discussed as of now. She believes in contributing towards achieving a clean ocean (Decade goal no. 1)
13. Dr. Meera K. M., Centre for Marine Living Resources and Ecology, Kochi, is excited to be back after a break to share her insights in Marine Resource Management and definitely believes in contributing towards achieving a productive ocean (Decade Goal No. 3)
14. What oceans without atmosphere and vice versa, we also had an IMS special session to address the role of ocean observations in monsoons and Arkaprava Ray from IIT Bhubaneswar gave his ECOP talk in this IMS special session and is all thrilled working with ECOPS towards achieving an accessible ocean (Decade Goal No. 6)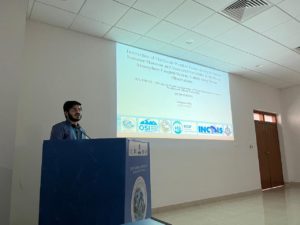 ECOPs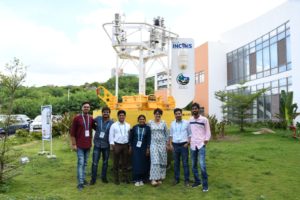 ECOPs with ECSN (Dr Nimit Kumar and Dr Sudheesh)
During the Valedictory Session, the Director, Dr T. Srinivasa Kumar, INCOIS called all the ECOPs to the stage and we were recognised with a huge round of applause.

 
(Sitting from left: Dr Remya PG, Co-convenor, OSICON, Shri. Pattabhi Ramarao, Convenor, OSICON, Dr T Srinivasa Kumar, Director, INCOIS, Dr. N.P. Kurian, President, OSI, Prof. Prasad K Bhaskaran, Vice President, OSI, Dr Mani Murali R, General Secretary, OSI. Standing: ECOPs)
Besides this, we had an informal workshop for ECOPs conducted by Sunanda on 24 August 2023. The ECOP programme was introduced to the participants and we discussed the previous activities in India and the challenges and goals of the UN Decade of Ocean Science. We also played the video initiated by Indian ECOPs in 2021 and Sambit Singh, who is a part of the OceanBridges task team, discussed integrating all the institutions in the community.  Fruitful discussions on the expectations of ECOPs and challenges faced by ECOPs were discussed. We also discussed the need for a network and how a community of ECOPs will help shape us better. An ECOP from NIO, Goa shared about Sethu, a group that conducts activities in NIO, Goa and also discussed the possibilities of including them in our community. Another ECOP came up with the amazing idea of integrating the Association of Fisheries Graduates, which was also discussed as a potential group, that can be integrated into our community.   The ECOP-India community in WhatsApp was also introduced and contact details were collected.  We had around 24 participants who enjoyed and interacted with participants across India. The discussions were completely informal and thus all ECOPs could be as light as they could bridging the gaps that possibly existed. 
Photographs of OSICON ECOP Workshop on 24 August 2023