Training and Mentoring task team
Training and Mentoring Task Team
Aiding the UN Ocean Decade in building knowledge and capability amongst ECOPs to help drive sustainable change, supporting its goals.
How are we going to do it?
We will use our passion and drive for supporting the UN Ocean Decade by educating and empowering ECOPs with ways they can help bolster it.
To offer high quality webinars (both internally developed and externally sourced) to any ECOP who is interested.
Host a library of past webinars (and associated materials) to support ECOPs with their individual learning.
Interact with senior leaders supporting the UN Ocean Decade to foster their involvement with our training (i.e., webinar delivery) and mentoring (i.e., the ECOP Mentoring Programme) work.
Coordinate with ECOP Nodes to support their national/regional webinar delivery. 
Training and Mentoring Key Priorities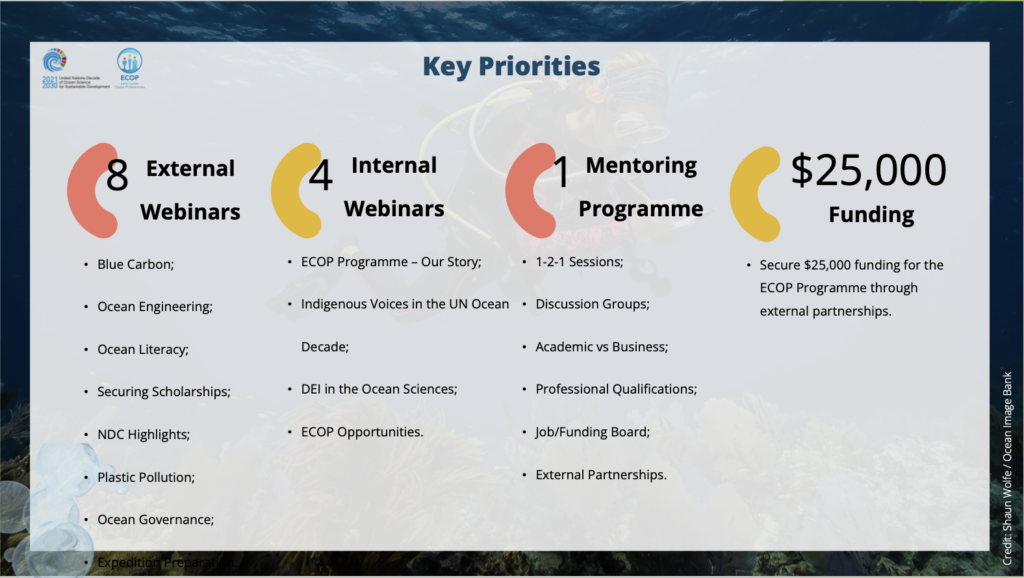 Training Development & Delivery Sub-Team
Develop & deliver webinars on critical and or underrepresented topics. 

Create training materials such as posters & bitesize learning clips.

Provide translation, PowerPoint,&  Zoom support to the Regional & National Nodes for their own webinars & training materials.
Logistics & Outreach
Reaching out to/coordinating with prospective webinar deliverers. 

Ensuring appropriate technical support is in place for our webinars.

Marketing our webinars to ECOPs and the wider UN Ocean Decade where appropriate.
Mentoring
Coordinating the delivery of the ECOP Mentoring Programme.

Working with ECOP Programme Advisors, Coordinators, and Task Teams to boost ECOP participation.

Managing relationships with partner organisations.
"Ensure any ECOP, regardless of sector or geographical jurisdiction, can attend our webinars to make a genuine impact in support of the UN Ocean Decade."
Conor Savage, ECOP Programme Training & Mentoring Manager
Target 1
Deliver 12 webinars over the course of 2023 (8 externally developed and 4 internally developed).
Target 2
At least 75% of webinar attendees make an impactful change in their professional/personal lives after attending.
Target 3
Have at least 100+ ECOPs signed up to the ECOP Mentoring Programme.
Head over to our webinars page

For any questions or inquires regarding capacity development opportunities for ECOPs, please email the Training and Mentoring Manager – Conor Savage at: training.mentoring@ecopdecade.org
Training and mentoring Manager
Join our Group on the Ocean Decade Network
Subscribe to our Newsletter