As the second week of COP27 in Sharm El Sheikh moves deeper into the Ocean-Climate nexus; attendees, governments  and organisations will aim to tackle some big discussions, and hopefully take some solid action against climate change.  The reality is that coastal communities are among the most vulnerable to the effects of the climate crisis, and this is something that Early Career Ocean Professionals will no doubt be encountering and addressing as they progress on their career path, whilst navigating the UN Decade of Ocean Science.
The ECOP Programme is very lucky to have a number of interns this season, and one of our interns working hard to raise awareness of the evidence of climate change impacts within India's Sundarbans is Debarati Sengupta.
1. Hi Debarati, please tell us where you are in the World and what it is you do in relation to the Ocean?
I'm from Kolkata, India. I conduct Plankton diversity study in the estuaries of Indian Sundarbans. This is a part of my research internship with Dr. Sourav Paul at Estuarine & Coastal Studies Foundation. My work is connected to UN Ocean Decade Challenge no 2: Protect and restore ecosystems and biodiversity. 
2. How did you get to where you are now?
From a very early age, life under the sea used to fascinate me a lot. As a child, I used to love corals. I used to think water was my home and there must be a mystery to unwind. Later, through the connections I made with a few Scientists, I started exploring the Indian Sundarbans. Now, I prefer my open-air labs more than anything and I feel I have the amazing privilege to work in the field to sample plankton from estuarine and coastal water. What I am today is certainly my dream came true.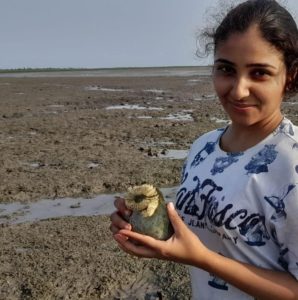 3.Tell us about the Sinking Island and what we can to do to avert the crisis?
Ghoramara, the 'Sinking Island', is on the west of Indian Sundarbans and the Island is closed to Northern Bay of Bengal. The Island has been drastically altered because of factors like extensive erosion, cyclone and storm surges and embankment and sea level rise. Rising sea levels have washed away more than 50 per cent of Ghoramara area since the 1980s. Two-thirds of its population have been forced to take refuge in the adjacent Sagar Island. According to reports, the rate of sea level rise is 5.8 to 6.1 mm /year (MoEFCC, India). The sinking island is predicted to sink by 2030 (IPCC, 2007).
The effects of climate change like Global warming, high tides, cyclones, floods and fragile embankments play a major role in sinking of the Island. Over the last two decades the islanders have lost acres of cultivable land to the Muriganga river and had to move home several times. The fragile embankment often gives away to large tidal waves causing widespread inundation, resulting in loss of cultivable land and animals. Saltwater inundation has increased soil salinity, making agriculture difficult. Betel vine cultivation is one of the major sources of income for islanders. Continuous erosion and sea level rise have affected the island in such a drastic manner that it is experiencing a severe financial crisis. The lives and livelihoods of the islanders are therefore in crisis. 
Since the crisis is natural there is little solution unless the pace of sea level rise becomes slower than the present rate. On top sediment management of lower Ganges Delta needs to be revisited to avoid the extensive geomorphological erosion of the Island.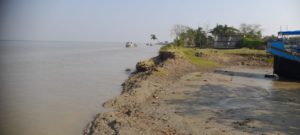 4. What role can women and girls play in the sustainable use and protection of Coastal areas?
It is incredibly important to work with local communities especially local women if we are striving to create lasting change. I feel being a woman that women of Indian Sundarbans are highly resilient to carry on their business against many natural obstacles that of the sinking island. 
In Indian Sundarbans, many men have migrated to find livelihoods, leaving their women and children behind. It is therefore high time that local women take the lead and develop an understanding and passion of coastal issues. I'm developing one project as ECOP to better connect individuals especially children and women, to the coastal issues such as biodiversity management, mangrove plantation for building natural embankment. I hope my majors will help them have better access to livelihoods and enable them to grow confidence and a mindset for conservation of biodiversity.
I wish that my actions may inspire other women to pursue a career in ocean science and contribute to biodiversity management of Indian Sundarbans. This field needs dedicated activists and scientists now more than ever which can contribute towards UN Ocean Decade outcome "An inspiring and engaging ocean where society understands and values the ocean in relation to human wellbeing and sustainable development."
5. What are the challenges you faced during "Community Involvement" as an ECOP? 
One of the biggest and only challenge I faced during my work is gaining acceptance from the community.  To gain the trust of the community through understanding, listening and observing.  Trustworthiness is important to secure a long-term relationship between the scientist and community before empowerment and engagement can be conducted. Of course, respect comes next. We must respect indigenous values, customs, and culture for a better response within community before mobilizing them for biodiversity management. 
6. How do you think the UN Ocean Decade can help raise awareness of these critical Ocean issues?
I have planned to organize workshops to discuss with locals the issues of alternative farming considering saltwater inundation as a major threat in Indian Sundarbans. Such initiatives are directly related to the UN Ocean Decade challenge no 6 i.e., "Increase community resilience to ocean hazards and change humanity's relationship with the ocean."
It is important to make the local community aware of the global sea level rises and its local implications for Indian Sundarbans. UN Ocean Decade can help me to spread the grassroot voices of Indian Sundarbans to global community. So, both the locals and globals stay informed to act and protect coastal ecosystems.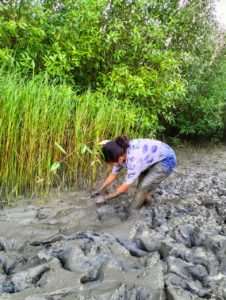 7. What can people do to support this community?
In one word, Mangroves can be the best solution to combat the coastal hazards and erosion effectively. Erosion refers here to the loss of land and a retreating shoreline. Every time during the high tide, the locals of the Island fear being washed away. As a solution, a large-scale mangrove plantation can prevent tidal erosion. The dense roots of mangroves help to bind and build soil. The above-ground roots slow down water flows, encourage deposition of sediments and reduce erosion. Also, people can think of new ways to allow these communities to lead small businesses and support their families, connecting them to the environment and making a difference in their lives.
To summarize, I'd say we only conserve what we love, and we only love what we understand.
So, understanding the coastal communities and nature is what people can do for a better future with the mindset "when there is a will, there is always a way."