Conferences are often criticized for not translating the invaluable discussions that are held into actionable information. Early Career Ocean Professionals (ECOPs) are here to change that.
In a workshop held by ECOP Canada at the Fourth Early Career Scientist Conference, a collaborative spirit mixed with a healthy debate on ocean topics sparked innovative solutions. ECOP Canada member Mary Paquet incorporated these solutions into an accessible graphic to showcase the many overlapping perspectives, interests, and outcomes that the international participants shared. 
The conference was held by the International Council for the Exploration of the Sea (ICES)​ and the North Pacific Marine Science Organization (PICES)​. It was hosted by Fisheries and Oceans Canada (DFO) in St. John's, Newfoundland.
The ECOP Programme's participation at ICES/PICES launched the first of ECOP Canada's interactive and networking workshops to engage early-career ocean professionals on their role in the UN Ocean Decade. We asked them: How do you view the 7 Ocean Decade Outcomes? What do you think needs to happen under each of the 7 outcomes to achieve the ocean we want this decade? 
The workshop engaged early-career scientists by connecting them to their role in the UN Ocean Decade, an international initiative for ocean health and conservation led by the Intergovernmental Oceanographic Commission (IOC) of UNESCO. Participants were empowered with meaningful networking and career development opportunities in a fun and casual atmosphere (have you ever networked in a musical chairs format?).
The ocean researchers present demonstrated a high level of political awareness that stimulated initiatives for ocean literacy, more indigenous and youth representation, and education. They work in all different parts of the world, from the North Pacific and the Atlantic Ocean to the Arctic, the Mediterranean, and the Black Sea. 
The workshop included a presentation of how the Global ECOP Programme is pivotal to the success of the UN Ocean Decade and included talks by each of the regional coordinators to inspire ECOPs to join or start a node in their region. It was hosted by ECOP Canada's National Coordinator, Ashley Bowes, and the Canada Node's co-founders, Samantha McBeth, Ronnie Nooan-Birch, and Neha Acharya-Patel, ECOP Asia's Coordinator, Raphaël Roman, ECOP U.S. co-founder, Hannah Lachance, and ECOP Africa's former coordinator, Gabriel A. Juma. 
The goal of this project is to encourage ECOPs to continue sharing their voice and increase participation during the Ocean Decade to achieve ocean health. We hope to encourage ocean organizations to include ECOPs in high-level conversations and decisions regarding the ocean's future and intergenerational equity.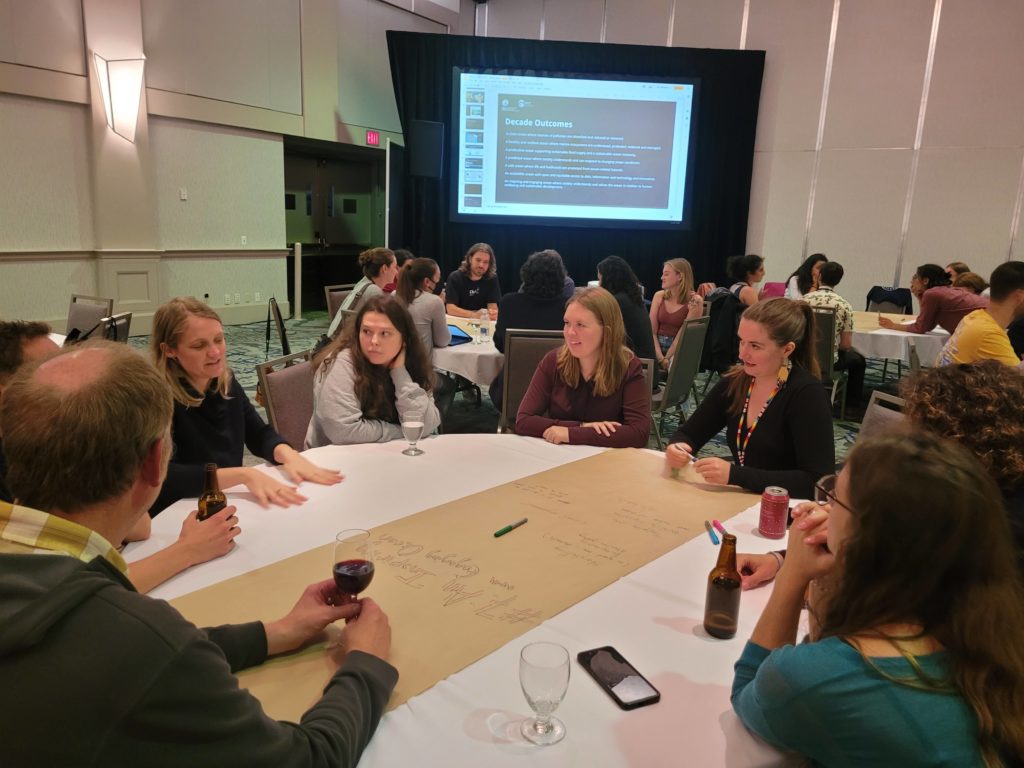 The graphic will be shared with our ocean partners such as the Decade Office within Fisheries and Oceans Canada, MEOPAR's Ocean Decade Community of Practice, the Tula Foundation's The Ocean Decade Collaborative Center for the Northeast Pacific, ICES/PICES, and other leaders and organizations who are making an impact nationally and internationally during the UN Ocean Decade.