In our global society that has been transforming over time, we are at a point in history where the ability to identify, understand and break down systemic prejudice, will enable us to create a better future.  Especially one that aligns with the outcomes of the Decade of Ocean Science.
However, the vision of a safe, just and accessible Ocean space for all, does not exist yet.    There is much work to be done.   Diversity, Equity and Inclusion (DEI) is that work and it provides a framework for how us, as individuals, groups, organisations and even governments, can play an active part in changing the system.
With the help of our DEI task team, this article explores how we can strive to make Ocean Science, the Ocean Decade AND the Ocean in general more diverse, equitable and inclusive.
1. Acknowledge and challenge our own personal perspective and privilege
Diversity, Equity and Inclusivity (DEI) is a term that is, thankfully and rightfully, gaining more and more traction, especially in the context of the Ocean. 
"Marine conservation sciences have traditionally been, and remain, non-diverse work environments with many barriers to justice, equity, diversity, and inclusion." (Johri et al., 2021)
Biases and discrimination exist everywhere in society, but it does not mean that they should.  DEI is made up of three interrelated concepts that need to work together to unravel the broken parts of our system.  Renis Auma Ojwala is a DEI task team lead, based at the World Maritime University in Sweden, currently conducting her PhD research on Gender Equality in Ocean Science for Sustainable Development in Kenya.  Her involvement in Ocean science began from personal experience of discrimination and she highlights where we can all begin on the DEI journey:  "Understanding unconscious bias and creating awareness is the first step toward real change."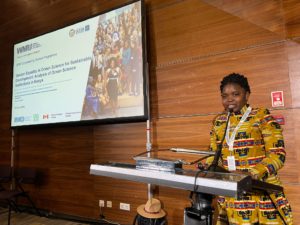 2. Become more informed (research, take a class) and get clued up on key terms
Let's take a moment to break it down.  Diversity strives to recognize the differences in identities that exist (and sometimes coexisting multiple identities) such as age, gender, race, ethnicity, nationality, socio-economic background and disability, among others.  There has always many different groups that make up the human species, yet the power dynamics of the last few centuries have meant certain groups have seized and maintained control and resources; whilst others have been discriminated against, marginalized, abused or worse.
Without diversity – much like in the marine world and its biodiversity – we will encounter difficulties. Those who belong to marginalized groups will have less opportunities and undoubtedly suffer.  Human society as a whole will also be negatively impacted as homogeneous or mono cultures lack a range of different perspectives which spark creativity and problem solving.  Not to mention that equality is a fundamental human right.  We know a thriving Ocean ecosystem needs to have different species interacting with each other to maintain a healthy balance.  Human systems also require diversity for resilience.  
Demographics help us to build a picture of who, where and how people might identify themselves.  Marine social sciences enable us to spot gaps in representation, but diversity is not actually helping change the system unless we practice the equitable sharing of resources.  Again, the past has shown us that Ocean equity has been systematically controlled by those in power.  Coastal lands and resources have been stolen from Indigenous communities and rather than the Ocean connecting us – throughout history, sea-based slavery and segregation has been rife. In terms of Ocean science, women were not allowed to work on research vessels at sea until the 1950's!
The idea of shattering the "glass ceiling" and calling out the "ivory tower", whereby institutions that are inherently exclusive and elitist become less so, is the final piece to the puzzle: inclusion.  By making inclusivity an active policy, rather than just an ideal, the representation of diverse communities is integrated into all aspects of the Oceanscape. 
3. Understand the need to account for intersectionality
Ellen Johannesen is one of the DEI task team members for the ECOP Programme, ECOP focal point for the Ocean Decade action Empowering Women for the UN Decade of Ocean Science for Sustainable Development, and Coordinating Officer at the International Council for the Exploration of the Sea.  
She explains that a deeper understanding of WHO needs to underpin our efforts as we transit through the second year of the UN Decade of Ocean Science: "It is critical that across levels, from Ocean Decade activities to Ocean Decade programmes that those involved (we!) critically reflect on who is represented and has a voice." 
Renis agrees: "The fact that the youth (below 35 years) account for a more significant percentage of ocean science researchers, as per the previous studies, makes it crucial for them to be involved fully at all levels."
Renis's work has also revealed that despite the fact that women are equally important in maintaining ocean health, gender disparity is inherent within blue economies: "Women, for example, have been reported to play a substantial role in marine ecosystem restoration, mangrove regeneration and fisheries  production. In fisheries, women comprise more than half of the fisheries workforce. Therefore, failure to acknowledge their contributions and utilise their full potential can be detrimental to protecting and managing oceans sustainably."
Rebecca Shellock, another member of the ECOP Programme DEI task team at the Australian National University  has recently published a paper on the multiple barriers facing women within the interdisciplinary realm of global Ocean science. Her work shows that "together these barriers overlap forming the "glass obstacle course"—which is particularly challenging for women in minoritized groups.  "The glass obstacle course represents the various unequal and unseen gendered processes that are experienced by women scientists in the workplace and prevent women from rising to leadership positions within academia." 
She adds, however, that "the concept of diversity is commonly filled by gender, which can leave ethnic minorities feeling excluded.  Therefore, it is important for intersectionality to be employed to widen the view of gender and power" (Bourabain and Verhaeghe, 2021 in Shellock et al, 2022).
"Intersectionality" which refers to the overlapping and interdependent systems of discrimination or disadvantage, was first termed in 1989 by Kimberlé Crenshaw, an American civil rights advocate, woman of colour and a leading scholar of critical race theory. 
Rebecca's paper talks about how Intersectionality works at different scales – "at the micro level of individual experience,  reflecting interlocking systems of privilege and oppression (i.e., racism, sexism, heterosexism, classism) and at the macro social structural level" (Shellock et al, 151 (p1267) and advises: "Using an intersectional lens, we can attempt to better articulate the invisible positions of scientists who experience multiple disadvantaged statuses."  But this approach appears far from the norm.
"The fact that specific challenges exist at the intersection of multiple dimensions in underrepresentation is known and discussed in literature. However, 'intersectionality' only occurs once across governance documents and twice across all DEI statements." 

(Van Stavel et al, 2021)
4. The sooner we take action, the sooner change can happen
We are on a strict schedule when it comes to achieving Ocean sustainability targets by 2030 and efforts to collect "the science we need for the Ocean we want" is part of that.  But how can we make sure the Ocean Science conducted within the Ocean Decade follows DEI best practices?  And what can established Institutions and organisations, as well as current Ocean leaders, already with expertise, experience and governance do NOW to actually make room for under-represented and marginalised groups? 
Rebecca's paper provides a list of concrete, ambitious, and actionable enablers that can promote and support women's leadership in academic interdisciplinary marine research:
In a separate paper, diplomacy and emotional intelligence play a big part: "efforts need to go into creating a culture of exchange, collaboration, and trust."  Minimal box-checking exercises or at worse tokenism, should be avoided.  Instead we should invest much more by valuing the process and our actions should bring "awareness, empathy, and intention to creating constructive and adaptive structures of DEI" (Van Stavel et al, 2021). 
One specific example, suggests Ellen is exclusionary language:  "Let's do away with labelling panel discussions as "high-level", which seems to be a justification for excluding a diversity of voices (gender, geography, and/or career stage)." 
"Let's do away with labelling panel discussions as "high-level", which seems to be a justification for excluding a diversity of voices (gender, geography, and/or career stage)." 
Renis adds "We need to avoid youth washing, actively include them in the decision-making process, and allow them to have leadership roles if we want to see change and understand the complex issues and the multi-stressors increasing pressure on our oceans better to find innovative solutions to save our oceans."
5. Seek out DEI opportunities within the Ocean Decade 
Ocean Decade Actions, Activities and Programmes (like the ECOP Programme), as well as events such as the UN Ocean Conference, are significant ways to showcase the  diversity of Ocean stakeholders and make sure their voices are heard.  
The recent UNOC was held by the governments of Portugal and Kenya, with 6000 attendees from 140 countries.  More than 50 ECOP Programme members travelled to Lisbon to take part in the event according to our survey, but this is still under 1% of the total attendees.  Through an ECOP Programme unofficial mixer event, we discovered that 95.3% of those at the informal get-together were from Europe and North America.  And whilst 90.5% of ECOPs members in Lisbon for the UNOC identified as female, from our post event survey we found 58% of attendees did not even have a speaking role during the conference.  In fact, 63.2% of those that responded said that there was not enough inclusion for ECOPs.
This is just a brief insight in the gaps, and indeed opportunities, where we can elevate and empower the diverse – and intersectional – Early Career Ocean Professionals within the Ocean Decade by providing speaking roles, travel bursaries, scholarships and assistance with visas so that they can actively participate in multi stakeholder events such as the UN Ocean Conference.  
Ellen concludes:  "Representation matters, so let's be more intentional, ask questions about who is represented, and take the time needed to make sure events in support of the Ocean Decade are truly inclusive and supporting the aims of transformational change."
Thanks go to: Renis Auma Ojwala, Ellen Johanessen and Rebecca Shellock for their contributions to this article. 
Click here for more information on the ECOP Programme DEI task team.
Sources and further reading: 
Bourabain, Dounia, and Pieter-Paul Verhaeghe. "Everyday racism in social science research: A systematic review and future directions." Du Bois Review: Social Science Research on Race (2021): 1-30.
Tulloch, Ayesha IT. "Improving sex and gender identity equity and inclusion at conservation and ecology conferences." Nature Ecology & Evolution 4.10 (2020): 1311-1320.
Van Stavel, Jordan, et al. "Towards an increase in Diversity, Equity and Inclusion in international ocean observing practices and initiatives." OCEANS 2021: San Diego–Porto. IEEE, 2021.
Ortuño Crespo, Guillermo, et al. "One Ocean, One Voice: A Global Early Career Perspective on the Priorities for the UN Ocean Decade." One Voice: A Global Early Career Perspective on the Priorities for the UN Ocean Decade.