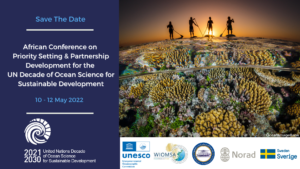 The African Conference on Priority Setting & Partnership Development for the UN Decade of Ocean Science for Sustainable Development is hosted by the Government of Egypt through its Ministry of Higher Education and Scientific Research, and the National Institute of Oceanography and Fisheries, and co-organized with the Intergovernmental Oceanographic Commission of UNESCO through its Sub-Commission for Africa (IOCAFRICA) and in partnership with a wide range of partners in the region.
The three-day conference will be held from 10-12 May 2022 in a hybrid format with a limited physical presence in Cairo, Egypt. It will present the results of the pre-conference workshops, the regional gap analysis, and national surveys, showcase endorsed Decade Actions in the region and will be featuring high-level support from UN agencies, governments, regional organizations as well as other stakeholder groups to these regional initiatives.
These discussions will feed into the regional gap analysis that will support the development of the regional Ocean Decade Action Plan to deliver the Science We Need for the Ocean We Want in Africa.
ECOP Africa Node Coordinator Gabriel Akoko Juma will be a keynote speaker for the "Empowering African Youth to Build the Sustainable Future they Want" session on Thursday, 12th May.
The ECOP Programme is now proud to announce the
Early Career Ocean Professionals (ECOP-Africa) Side Event on
10th May from 9.00AM to 10:45 AM Cairo Time.
Join ECOP global coordinator Evgeniia Kostianaia and Africa Node Coordinator Gabriel A. Juma (among others) for an online programme
dedicated to "ENHANCING CAPACITY FOR AFRICAN ECOPS IN THE UN DECADE OF OCEAN SCIENCE."