The ECOP Programme UNOC 2022 Impact Report is coming soon.
Empowering Women for the United Nations Decade of Ocean Science for Sustainable Development
Monday 27 June, 2022 13.00 – 15.30, PT Meeting Center, 47 Rua do Bojador 1998-010 Lisboa
ECOP Programme "Netwalk"
Monday 27 June, 18:00 - 19:30, Parque das Nações
Join us for Sustainable Ocean Netwalk, led by co-founder of the ECOP Programme Erin Slatterthwaite.  This is a networking – walking event, during the UN Ocean Conference to make new connections or meet up with past colleagues and friends.
Meet at the Cat by Bardalo near Altice Arena in Lisbon. We will walk a loop around the Parque das Nações ending at the ECOP mixer at Honest Greens.
Addressing Marine Pollution
Monday 27 June, 18.30 - 19.15, Oceanário de Lisboa,h Esplanada Dom Carlos I, 1990-005 Lisboa For those participating in person: Meet at the Aquarium, Oceanário de Lisboa fifteen minutes before event starting time.
This side event is organized by Gaia First with ECOP Ines Boujimil as a speaker.  It ​will highlight how high seas plastic pollution effects biodiversity, climate control and C-capture; and how Gaia First is piloting a large-scale ocean waste to energy cleaning operation, turning this problem into a green energy opportunity.
ECOP mixer
Monday 27 June. 19.30 - 21.00, Honest Greens, Alameda dos Oceanos
Join us for an informal mixer on the first evening of the UN Ocean Conference week in Lisbon. 
Our Ocean Future: Empowering the next generation of Ocean Leaders
Tuesday 28 June, 8.00 - 10.00, #SeatheFuture restaurant, Oceanario Lisboa.
This event aims to accelerate opportunities for the next generation of ocean leaders by inspiring, mentoring and enabling careers in marine science, policy, and conservation for youth from the Global South. 
Building more equitable access to, and capacity for marine science is a priority for the Bertarelli Foundation and of the Ocean Decade.
Training for youth in science communication and storytelling
TUESDAY 28 June, 10.00 to 13.00, Ciência Viva Library
Youth4Ocean Forum, Ocean as Common, Early Career Ocean Professionals (ECOP) Programme of IOC-UNESCO, Surfrider Europe, Institute of Oceanology of Polish Academy of Sciences, Sustainable Ocean Alliance, University of Brest – UBO, European Marine Board, Today We Have, EurOcean, WildTrust, Youth4MPAs. The workshop on science communication and storytelling is organized by the Intergovernmental Oceanographic Commission of UNESCO in partnership with the European Commission within the EU4Ocean framework and will take place on the occasion of the UN Ocean Conference in Lisbon on 28th June 2022 from 10:00 to 13:00 (WEST) in the Ciência Viva facilities, at the Pavilhão do Conhecimento.
This workshop is limited to a maximum of 30 participants and a selection process will follow the submission of this form.
Please note that participants must be on-site to attend this workshop and any travel costs and expenses need to be covered by the attendees.
— Who can participate? —
The workshop is open to all people from 18 to 30 years. Members of the Youth4Ocean Forum, the Youth4Ocean Advocates, Early Career Ocean Professionals, and members of other youth Forums are strongly advised to apply to the workshop. 
Empowering Women: An Ocean of Opportunities in Science, Policy and Blue Economy
Tuesday 28 June, 10:00 - 11:15, Side Event Room 1, Altice Arena, Lisbon
The Side Event will contribute to the thematic interactive dialogues topic 8 of the UN Ocean Conference, namely leveraging interlinkages between Sustainable Development Goal 14 Life Below Water and Goal 5 Achieve Gender Equality and Empower all Women and Girls. By advocating for increasing women's participation and leadership at all levels, the Event will highlight on maximizing human potential and presenting the added value of women's representation in sustainability and ocean conservation, and human resources management, efficiency and sufficiency. It will also facilitate  the establishment of a wide range of dynamic partnerships to ensure the conservation and sustainable use of the ocean and its resources for the benefit of all humankind.
The Side Event features senior representatives from the national government, international organizations, research institutions, as well as private philanthropy in the field of women's empowerment and leadership for ocean affairs.  Registration is not needed.
Biodiversity for a resilient planet
Tuesday 28 June, 13.15 - 14.45, Jose Mariano Gago Auditorium
The deep ocean contains over 90 percent of the living space for life on Earth, and its remarkable biodiversity is critical for human well-being. While it can seem remote and unchanging, this deep-sea biodiversity faces clear and increasing threats from climate change, mining, fishing, and pollution. To make sure deep-ocean life can keep supporting a livable planet, we need new partnerships and policy solutions that make good use of the latest ocean science. Those solutions will be the topic of this panel, titled "Biodiversity for a Resilient Planet: A Deeper Look."
Sustainable Blue Economy Investment Forum
Tuesday 28 June, 15.00 onwards, Estoril Congress Centre, Cascais.
The Forum aims precisely at scaling up, in an efficient way, the financing of ambitious, innovative Ocean action.
One of the main objectives of the Forum is to launch a process for designing the blue economy's sustainable framework global standard, to be used in financial instruments, investment decisions and business.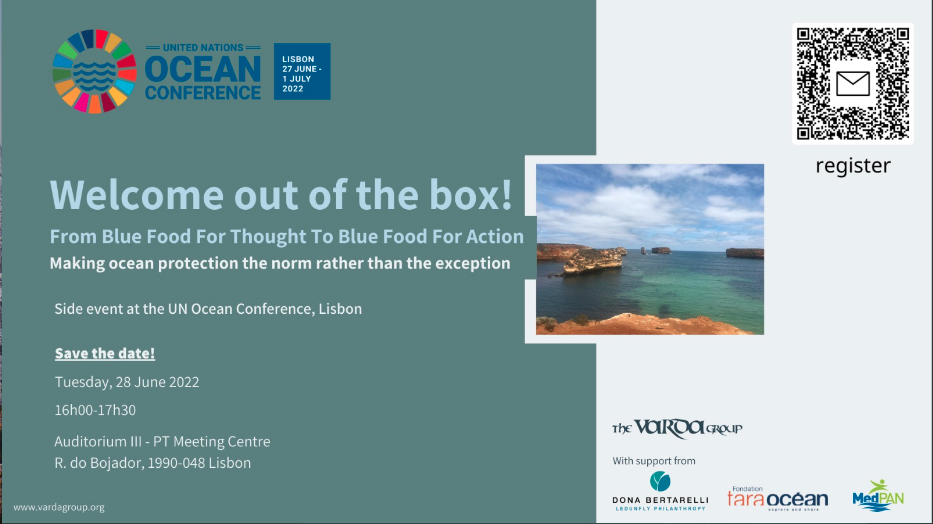 Welcome out of the box!
Tuesday 28 June, 16.00 - 17.30, Auditorium III, PT Meeting Centre
From Blue Food For Thought To Blue Food For Action, this event is about making ocean protection the norm rather than the exception.  ECOP Guillermo Ortuno Crespo will be speaking.
Conexões Oceânicas: Ocean Decade Networking Reception
Tuesday 28 June, 18:30 – 21:00, Ciência Viva Courtyard
This event is being held by Bertarelli Foundation, RevOcean, Schmidt Ocean Institute and The Ocean Foundation
Blue Mind Morning
Wednesday 29 June, 5.45 - 8.00am, Estacao Fluvial Sul e Sueste
One for the early birds! This is a sunrise boat rise to decompress mid week during the UN Ocean Conference and spend some time in and under the reason we are all together: the Ocean.  A guided mediation, pranayama and snorkel will help everyone drop into "Blue Mind" where we can feel more calm, regulated and clear – experiencing the incredible well-being benefits of the Ocean in order to recharge for the rest of the week.
Integrating Marine Litter Monitoring to Inform Action
WHOLE DAY from 8.30am, Wednesday 29 June, Centre Cultural de Cascais, Portugal
This event will welcome Early Career Ocean Professionals (ECOP) through the OceanBRIDGES initiative that promotes intergenerational dialogue.
The event builds on the UN Decade "Clean Ocean" Satellite activity One Integrated Marine Debris Observing System (IMDOS), that took place in November 2021. It will focus on the need for monitoring marine litter to inform action with the following objectives:
Advocate the necessity of a global sustained Integrated Marine Debris Observing System (IMDOS)
Promote the building of a global IMDOS community
Encourage the cooperation among scientists and between scientists and stakeholders such as policy makers and mitigation actors.
The ECOP network programme is endorsed by the UN Decade of Ocean Science for Sustainable Development. 
All Sessions will thus be moderated by ECOP members. 
Sharks, Rewilding and Hope for the Ocean
Wednesday 29 June, 09:30-18:00, PT Meeting Centre, Lisbon – Auditorium I and livestrea
A one-day official UN Ocean Conference side-event dedicated to Marine Protected Areas in Action, Rewilding the Sea, Blue Carbon Workshop and Can Shark Fishing be Sustainable in 2022?  Speakers include Dr Sylvia Earle and Captain Alex Cornelissen, with ECOP Guillermo Ortuno Crespo moderating.
Developing the capacity we need for the Ocean we want (virtual)
Wednesday 29 June, 18.00 - 20.00, online at the link below.
Join ECOP Rebecca Zitoun and other experts discussing the ability of coastal nations to manage their coastal and marine environments is vital in the development and maintenance of national sustainable blue economies and to achieve the 2030 Agenda for Sustainable Development. Thus, capacity development is the key to creating an appropriately trained workforce able to co-design science-based knowledge and innovative solutions. This trained workforce is required to develop a sustainable blue economy, particularly in developing countries, and to ultimately achieve SDG14.
This side event will focus on how to design and implement the capacity development we need to achieve the 2030 agenda by showcasing:
· Existing global and regional initiatives that build upon the foundation of capacity development for ocean sciences
· Lessons learned from case studies and/or success stories from beneficiaries of training programs
· Recommendations on an action plan for the ocean for scientists, policymakers, local communities and the private sector to accelerate global CD efforts and responses to achieve SDG14 in the current decade.
Uncovering People's Engagement with the Ocean: From Local to Global Perspective
Thursday 30 June , 11.00 - 12.00, Ciência Viva Library
 The event will launch the official results of a national survey carried out in Brazil to assess citizen's engagement with the ocean. This innovative pilot survey will inform the implementation of the Ocean Decade communication strategy in Brazil, and could offer a template for similar work in other countries. This event is organized in collaboration with Fundação Grupo Boticário, UNESCOand Universidade Federal de São Paulo.
The Ocean as a global common - connecting generations of stakeholders through storytelling
Thursday 30 June, 11:30 to 13:00, Institut français du Portugal - French Ambassy Rua Santos-o-Velho 11, Lisbon
The Youth4Ocean Forum will host a side event, in collaboration with World Ocean Network, Ocean as Common, Early Career Ocean Professionals (ECOP) Programme of IOC-UNESCO, Surfrider Europe, Institute of Oceanology of Polish Academy of Sciences, Sustainable Ocean Alliance, University of Brest – UBO, European Marine Board, Today We Have, EurOcean, WildTrust, Youth4MPAs and Nausicaa.
This side event aims to connect stakeholders from different backgrounds, sectors, cultures and generations. We will operate an 'All welcome policy'- this will be an inclusive workshop and the more diversity among participants the better. Speakers, young people, and participants will share their perception of the ocean as a common good, the global commons and heritage. Attendees will exchange personal stories about how the ocean benefits them and their communities, alongside a showcase of cultural approaches to ocean management and innovative solutions achieved through trans-generational cooperation. The workshop will involve networking and storytelling activities to connect diverse stakeholders and young people from different backgrounds and sectors. It will engage the audience with personal ocean-related stories to find agreements and differences of opinion, activating emotional and collective intelligence to plan future concrete cooperation and innovative solutions for managing, protecting and restoring ocean and coasts through effective trans-generational cooperation.  Click here for more information.  ECOPs Rebecca Zitoun and Ashley Bowes will be panelists.
Restoring the Forgotten Ocean Forests
Thursday 30 June, 15.00 - 16.30, Casa de Santa Maria, Cascais
The event will showcase how the restoration industry can transform seaweed forest restoration into a commercial-scale enterprise following the model developed by SeaForester. Through an excellent panel of guest speakers, the event will also highlight the importance of strategic partnerships to support, finance and further develop seaforestation at scale.
ECOP Programme communications coordinator Natalie Fox will be talking about the Decade of Ocean Science Activity she coordinates: ReGeneration Surf, which is engaging surfers in Kelp reforestation techniques, pioneered by Seaforester.
At the end of the event, you are invited to try some delicious food prepared by Escola Superior de Hotelaria e Turismo do Estoril (ESHTE), using seaweed from the local company WISSI.
UNOC Side Event: Ocean Science Capacity as a Condition to Achieving SDG 14
Thursday 30 June, 18.00 – 20.00, Myriad, Rua Cais das Naus
This event will offer critical perspectives towards achieving more equitable ocean science capacity throughout SDG 14 implementation. Leaders from The Ocean Foundation, The United States Department of State, Eduardo Mondlane University in Mozambique, The Intergovernmental Oceanographic Commission, the University of Rhode Island Coastal Resources Center, and the Pacific Community will discuss what barriers are preventing equity and what strategies should be employed across SDG 14 activities to ensure equity.
Katapult Ocean Networking Event
Thursday 20 June, 18.00 - 21.00, Pavilhão de Portugal - Expo 981990-221, Lisbon (in walking distance from the blue zone)
ECOPs Water Break with Seatrees
Friday 1 July, 07.00 - 09.00, Location TBC
Join the SeaTrees team for Water Breaks – They'll be hosting a free surf session for the ECOP Programme (and more during the week of the UNOC). With city pick up locations in Lisbon, transport and wetsuits & boards provided – they'll make sure your Ocean Conference actually has some 'ocean' in it.
SeaTrees is an ocean-focused platform designed for brands and individuals to take direct action toward protecting ocean health and reversing the effects of climate change. We create connections between people and brands that are ready to meet the climate challenge, and the social entrepreneurs and scientists who know how to regenerate ecosystems but struggle for funding and recognition.
If you haven't heard from the organizers on the meeting spot, but have reserved a place…
Ocean observing for ocean sustainability
Friday 1 July, 9.00-1100, Pavilhão do Conhecimento - Ciência Viva. ECOP Erin Satterthwaite will be speaking.
Many challenges face the ocean and the planet today – in the realms of climate change, fisheries, energy and mineral resources, biodiversity, human health, pollution and more. Solutions to these challenges will come from a deeper understanding of the ocean, its dynamics and vulnerabilities. Observations of ocean physics, biogeochemistry, marine life, human interactions anddisturbances underpin the ability to effectively benefit from and conserve the ocean. Under the Decade for Ocean Science, ocean observing has tackled integration of disciplines and communities, technological innovation, generational shifts in ocean leadership, and improved access, equity, and capacity for many nations.
This sessionwill give voice to many perspectives on ocean observing needs, with particular emphasis on island nations. Small island state representatives and others will evaluate progress made and identify needs, opportunities and priority actions going forward. Representatives of key ocean observing institutions (Scripps, GEOMAR, IFREMER, NOC) will provide a perspecti- ve on how their institutions can work together to address these needs.
'It's all about people: Building inclusive leadership and cross‐sectoral collaboration for a thriving ocean'
Learning from the Past, Promoting Emerging Leaders Collaborating Worldwide, Friday 1 July 13.00 ‐ 14.15, Altice Arena, Side event room 2
The sustainable future of our ocean depends on a new wave of thinking, learning from the past, recognizing & promoting emerging leaders worldwide and collaborating like never before. This event will explore best practices from around the world to help us shift mindsets and amplify impact.
We will discuss key requirements to achieve successful ownership, leadership, and collaboration, across multiple sectors. We will focus on underwater cultural heritage and the ocean's past, on how to build wider intersectoriality and on a new ocean leadership with a more comprehensive and insightful view.
Delivering Ocean Solutions for the SDGs: The role of Africa in the Alliance of the UN Decade of Ocean Science for Sustainable Development
Friday 1 July, 17:30-18:45, The Conference venue – the Altice Arena Room 1
This event will be co-moderated by Mr. Ayman Cherkaoui- Director of the Hassan II International Center for Environmental training and Mrs. Alison Clausen, Program Specialist- the Intergovernmental Oceanographic Commission of UNESCO (UNESCO/IOC) and highlights the achievements and challenges in pursuing sustainable fisheries and aquaculture in African and articulate priority for regional cooperation and international partnership.
Other (side) events we recommend:

This event will be co-moderated by Mr. Ayman Cherkaoui- Director of the Hassan II International Center for Environmental training and Mrs. Alison Clausen, Program Specialist- the Intergovernmental Oceanographic Commission of UNESCO (UNESCO/IOC)
Reef Action Hub
From 27 June through 1 July, on the side-lines of the UN Ocean Conference, the Global Fund for Coral Reefs (GFCR) and the International Coral Reef Initiative (ICRI) will host the 'Reef Action Hub'.
The Hub will feature coral-focused side events, including workshops and roundtable meetings, aiming to accelerate action for coral reefs and showcase solutions.  Events will be held in-person in the Hub, located at R. do Bojador 47 in Lisbon. Public events will be streamed live on the GFCR YouTube channel: Link. Below please find the full agenda. The Reef Action Hub Space is a contribution from the Mirpuri Foundation. Times below are listed according to local time in Lisbon, Portugal (GMT+1). 
UN Ocean Conference Website
Want to connect in Lisbon? Fill in this form if you will also be attending.
Join our Group on the Global Stakeholder Forum
Subscribe to our Newsletter