2nd UN Ocean Decade Regional Conference & 11th WESTPAC International Marine Science Conference in Bangkok, Thailand
22 April, 2024

-

24 April, 2024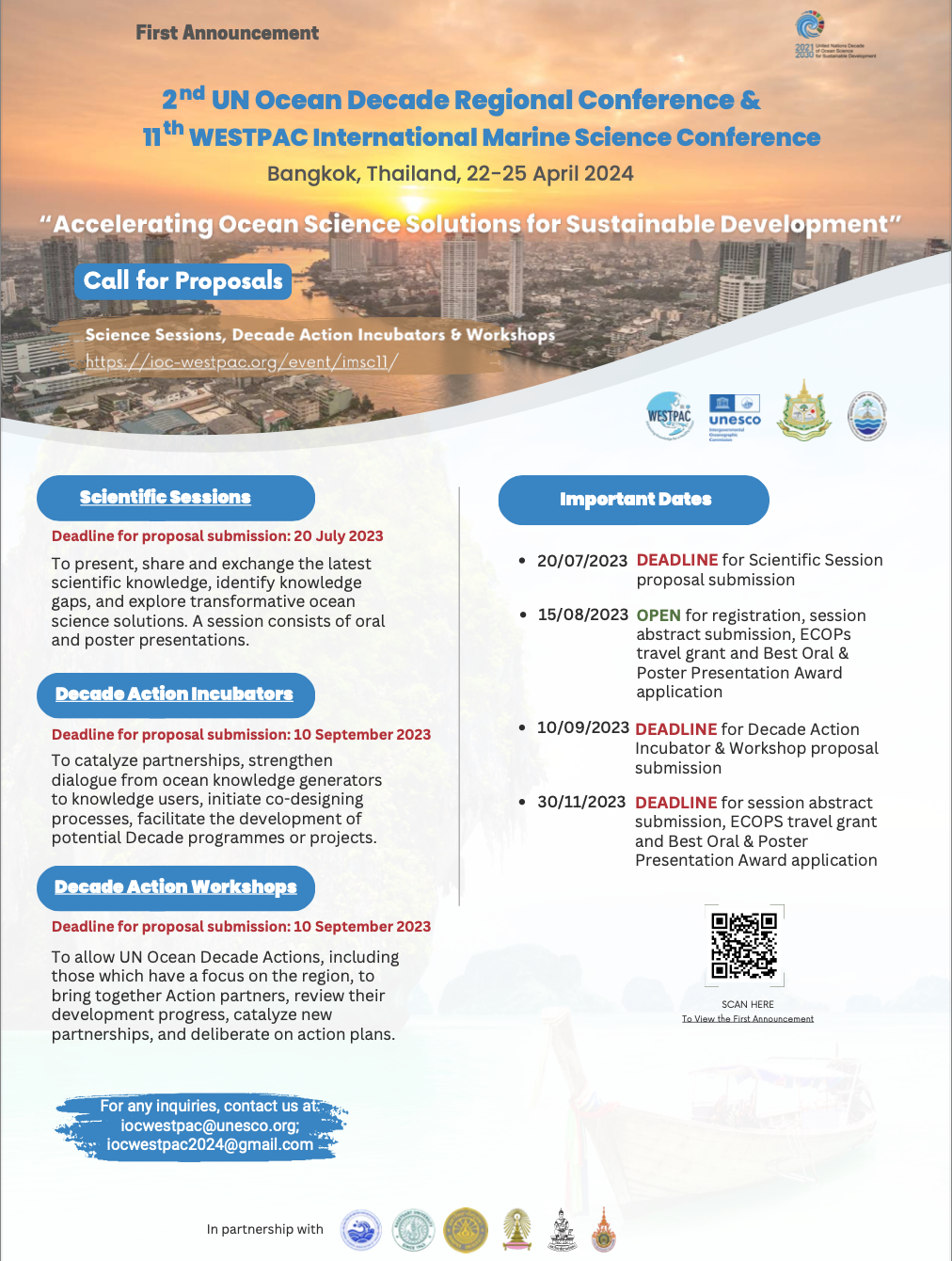 The UNESCO/IOC Sub-Commission for the Western Pacific (WESTPAC), and the Government of Thailand through its Department of Marine and Coastal Resources (DMCR) are pleased to circulate the 1st Announcement of the 2nd UN Ocean Decade Regional Conference & 11th IOC/WESTPAC International Marine Science Conference, which is scheduled for 22-25 April 2024, Bangkok, Thailand. 
This Announcement will serve as an open call for proposals of Scientific Sessions, Decade Action Incubators, and Decade Action Workshops! We cordially invite you to be part of this exciting event! The event, to be held IN PERSON ONLY, will bring various ocean stakeholders including governments, research communities/academia, private and business sectors, philanthropic foundations, UN agencies, NGOs and civil society, to present the current status of ocean knowledge, take stock of the first three years' achievements of the Ocean Decade Actions, identify future priorities, and continuously catalyze partnerships and concrete actions for transformative ocean-based solutions to sustainability challenges in this particular region, such as resource depletion, marine pollution, biodiversity loss and habitat degradation, climate change and ocean acidification, and natural hazards. The Conferences will comprise three main components: Scientific Sessions, Decade Action Incubators, and Decade Action Workshops:  
Please visit the event page (https://ioc-westpac.org/event/imsc11/#/) for more information about the conference and proposal submission, and further circulate the attached flier to your or other relevant institutions, national and international networks.
We look forward to your active engagement in "Accelerating Ocean Science Solutions for Sustainable Development"! Should you have any inquiries, please feel free to contact us at Email: iocwestpac@unesco.org, and iocwestpac2024@gmail.com