Ocean literacy (OL) plays a fundamental role in encouraging and communicating to the everyday citizen how to practice a sustainable lifestyle beneficial to themselves, their community,  the ocean, and the climate of our planet. The task goes beyond a scientific point of view and thus it is crucial to involve all knowledge, philosophies, and practices. OL is a way to connect and uplift people of various backgrounds, ages, and cultures worldwide in order to catalyze positive change and to show them that the Sustainable Development Goals for the ocean are tangible and realistic if we work together.
The vision of the Ocean Literacy Task Team (OLTT) is to create and share the inclusive ocean narrative (including science, indigenous knowledge, and traditional practices) that is needed for all of society to participate in, and benefit from, the UN Ocean Decade in order to create the ocean we need and want as a collective. 
Our mission is to help citizens widen and broaden their knowledge and perspective surrounding ocean science and to encourage them to connect and care about ocean issues. Demonstrating how the ocean can directly or indirectly influence people's lives will help with a more sustainable use of the ocean and its resources. We aim to achieve this through raising awareness of ocean challenges and opportunities via powerful storytelling, knowledge sharing, education, and initiatives at the community level, to inspire change and encourage concrete actions and behavioral change towards achieving a sustainable ocean at all levels of society thereby fulfilling the desired outcomes of the UN Ocean Decade. Given that the ocean is one of the key climate regulators of our planet, we believe enhancing ocean literacy is crucial not only for conserving and sustainably engaging with our oceans, but also mitigating the climate crisis.
One approach to inspire and broaden engagement in the UN Ocean Decade is to build storytelling potential within the Early Career Ocean Professionals (ECOPs) community and extended networks. Stories are how we learn, how we encourage and inspire change, how we educate and help to make a difference. Thus, telling ocean stories brings people together. They can see themselves in these stories, making them realize that every single one of us has an important role to play in creating a healthy and clean ocean for us and the future generations to come. The objectives of the OLTT will include, but are not limited to, the following:
To demonstrate an inclusionary ocean narrative by highlighting structures and people (educators, students, policymakers, scientists, business, media, and citizens) and by drawing mechanisms through which they can be involved.
To develop resources and tools (guides, flyers, short videos, summaries of research findings, infographics, and webinars) for exchanging or integrating knowledge and perspective among target groups and establishing a partnership between the OLTT and these groups so that we, in turn, gain insight through reciprocal dialogue.
To work in collaboration with the other Task Teams to strengthen the ECOP network, to mobilize financial resources, and seek support to help plan and run the OLTTs. 
To develop capacities for regional and local OL groups to foster more responsible citizenry, sound corporate practices, and local conservation initiatives specific to their area or concerns and to promote a sustainable ocean on a daily basis.
To train ECOPs, the ocean leaders of tomorrow, by addressing topics that are important for strengthening ocean action, such as diversity, equity, and inclusion, and how the Sustainable Development Goals will be addressed within the UN Ocean Decade. 
Regional and Global Ocean Art Contest (till January 3rd, 2022)
The ECOP Programme Ocean Literacy Task Team (OLTT) is implementing 2 regional art contests (South Pacific and Africa) and 1 global art contest to raise awareness of the importance of the ocean and increase knowledge about current marine challenges.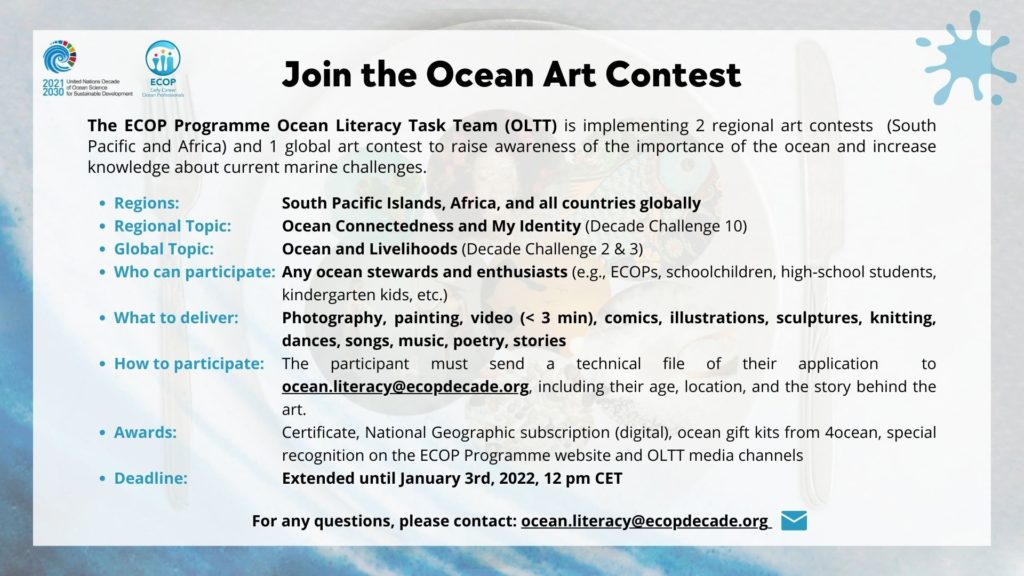 Join our Group on the Ocean Decade Network
Subscribe to our Newsletter